Top Websites in the World Powered By Drupal
Type
Category
Date
Reading Time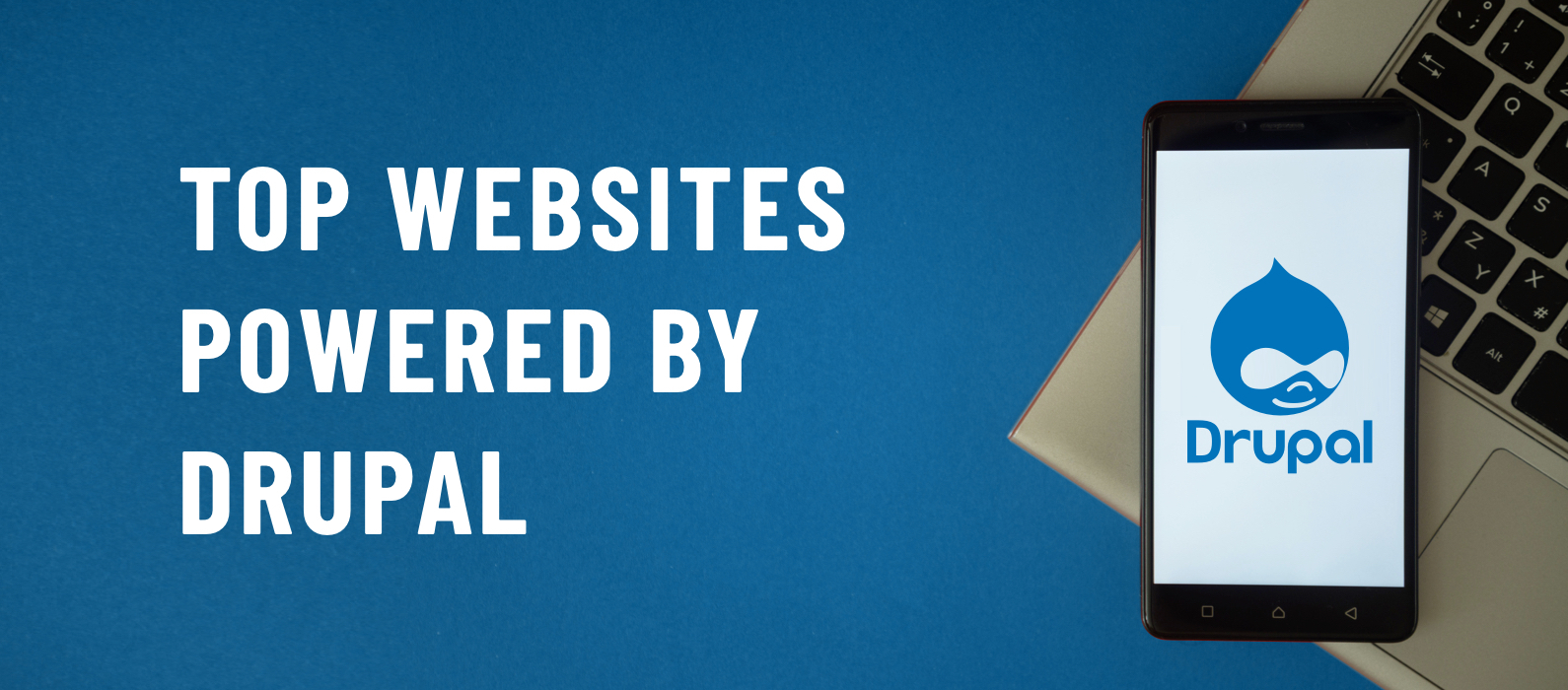 When it comes to big companies, it is not just the look and feel of the website that is important. Rather, the data that is exchanged between users and themselves and even among their employees is sensitive and hence, needs to be taken care of with immense discretion. Consequently, many of these top organizations and Fortune 500 companies put their trust in Drupal rather than any other CMS.
When it comes to a top corporation you cannot skip the reference of government websites and university websites. Millions of people rely on these websites for information, and critical as well as everyday needs.
Wondering how many government websites use Drupal as their backend? Just have a cursory look at this link that showcases the various government websites powered by Drupal.
Drupal in Government
Below listed are the top Government organizations that use Drupal,
• Australian Crime Commission
• Australian Law Reform Commission
• Cancer Australia
• Climate Change Authority
• Prime Minister Office Armed Forces Division Bangladesh
• Birth and Death Registration Project of Bangladesh
• Belgian Healthcare Knowledge Center
• Belgian Open Data Initiative
• Belgian Prime Minister's Website
• Brazilian Ministry of Health
• International Maritime Organization, Brazil
• Prime Minister of Canada Website
• Royal Canadian Mounted Police
• Canadian Museum for Human Rights
• National Meteorological Center of China
• Ministry of Science, Technology, and Innovation in Denmark
• Department of Tourism & Commerce Marketing, Dubai
• French Government Official Portal
• French Government Official Website
• French Premier Website
• Ministry of Environment Website, Germany
• National Portal of India
• Ministry of Home Affairs, India
• MyGov
• Almost All-State Websites In India
• Major White House websites in the USA

Frankly, this is just the tip of the iceberg.
Top Universities of International fame that run on Drupal
• Stanford University
• University of Minnesota
• MIT
• Oxford University
• UCLA
• Harvard University

In fact, 71 out of 100 top international universities use Drupal.
Big Companies using Drupal
• Qualcomm
• Pfizer
• GE
• Xerox
• Tesla
• Box
• Verizon
• Pinterest
• Twitter
• Nokia
• eBay
• Timex
• Charles Schwab

For that matter, even NASA uses Drupal for its main website.
Stellar features of Drupal for bigger websites
There are many factors taken into consideration when it comes to building and maintaining the website of an organization. Thousands of people access their websites daily, for there various needs. Hence, they need to take into account the requirements and expectations of the maximum number of people.
One of the biggest reasons why the CTOs of big organizations go for Drupal that it is a very successful open source project with thousands of developers contributing to it 24×7.
Despite being an open-source project, Drupal is one of the most secure platforms with a very solid support base. Since it has a very large user base, many premier web development companies providing stellar support to these big organizations. For example, Perception System has implemented prestigious website projects for very big organizations, nationally and internationally.
For large organizations, the budget is also a very serious consideration. Even small projects can escalate into significant expenses due to the sheer size of the organization and hence, at every stage, their expenses need to go through scrutiny.
There is no license fee for Drupal whether it is being used by a single individual or a Fortune 500 company employing thousands of professionals. In the corporate market, software licenses can be a big financial strain. Using Drupal immediately eliminates the licensing fee factor.
There is a wide range of Drupal service providers available. Although the level of competence differs from agency to agency – for example, Perception System is highly regarded for its Drupal support – assembling support teams for managing large-scale Drupal-powered websites is much easier compared to other proprietary enterprise-level website management solutions.
Various governments have made the incorporation of accessibility features into websites mandatory. Businesses can lose their licenses if they don't make their websites accessible to people of different needs. Drupal comes with inbuilt accessibility features which are among the best in the industry.
Drupal – A secure CMS for Big Organizations
The safety and security of data are one of the gravest considerations among bigger organizations and enterprises, and in this regard, Drupal provides one of the best security features in its category.
Drupal is specially used by large enterprises, non-governmental organizations, reputed brands, universities and government institutions for its powerful security features and solid content management.
The Drupal CMS design meets all security standards of the Open Web Application Security Project (OWASP). It is a non-profit foundation that works to improve the security of software. Just like W3C is a benchmark among web designers and online accessibility experts, software companies and content management systems use the OWASP guidelines to adhere to cutting-edge security requirements. The Drupal development team spread all over the world, continuously tests its security features against the most stringent standards.
Drupal uses password encryption out-of-the-box. The passwords are encrypted-salted and repeatedly hashed when they are stored in the database. It supports various password definition standards such as minimum or maximum length, the complexity of the passwords, expiration, SSL as well as 2-factor authentication. It also uses single sign-on systems such as LDAP, Shibboleth, OpenID, and SAML.
Access Control
Every enterprise-level website has multiple users. A typical website has hundreds of authors, scores of administrators and sometimes, thousands of data entry operators. Drupal gives granular user access control to administrators. The administrators can easily create user roles and assign permissions at various levels. For example, an author can create and update content but cannot publish it. Different sections of the website can be controlled by providing access or denying access.
Database Encryption
Drupal can be easily configured for high-level database encryption. It can be implemented site-wide as well as with granularity. Maybe you don't need to encrypt the entire database but just certain sections such as confidential user data. The encryption system that comes with Drupal adheres to the strictest privacy laws and conventions including PCI and HIPPA. It also comes with off-site encryption key management so that even if an individual user machine is compromised, the website data remains safe.
Other Drupal Safeguards
• Brute Force Detection
• Prevention of XSS, CSRF, and other harmful data entry attempts.
• Mitigation of DoS attacks
• Taking care of all top 10 OWASP-specified risks
Although every organization is unique and may have highly individual data security needs, these are the broader security features that encourage top organizations and universities to adopt Drupal as their primary website management software.
This is a reason that the Drupal Development team at PwDigitas has been continuously working with international prestigious clients to implement critical websites for them, powered by the highly dependable Drupal CMS.