Why Use Drupal for Enterprise eCommerce Websites?
Type
Category
Date
Reading Time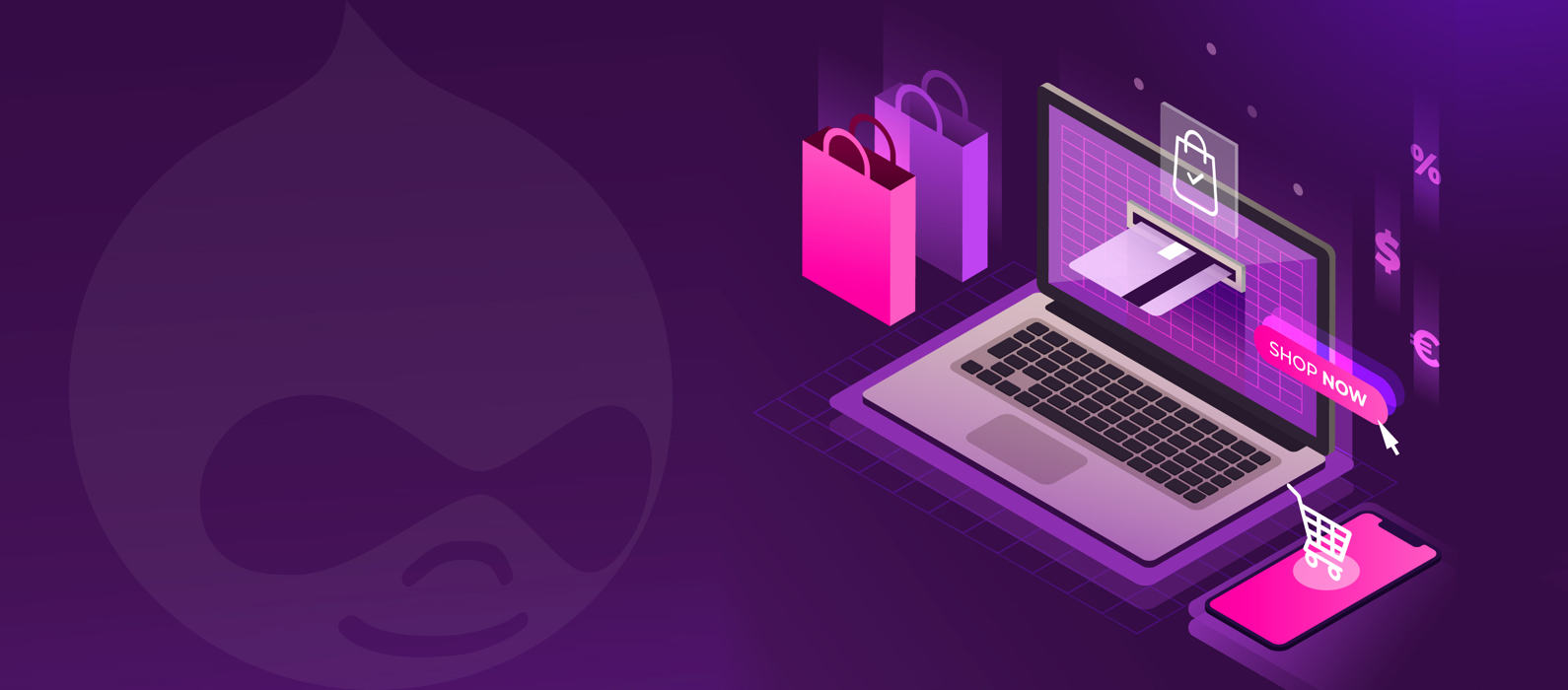 Complex eCommerce sites require a scalable and flexible platform for carrying business operations with ease. The eCommerce platforms should allow industries to run customized websites that can meet the demands of higher security, third party integrations, time-to-market standards, and lower development costs.
In light of this, it is not surprising that many large e-commerce companies rely on Drupal as their preferred platform for their digital commerce strategy. Its rich community of open source developers is always working, refining, and innovating the boundaries of what the framework can do. Currently, sites built with Drupal, provide a better seamless payment gateway solution.
As we mentioned, Drupal-powered solutions are robust and highly efficient, suitable for both small and large eCommerce sites as well as for medium business sites.
It offers a variety of out-of-the-box features, including the following:
• Storefront management
• Landing Page building
• Multilingual solutions
• SEO Modules
• Constantly Improving security
Read on to learn more about why businesses choose Drupal for their eCommerce needs, and why you should decide to go for it.
Drupal is More Accessible
Drupal's success has led to its widespread improvement over time. As it is an open-source platform, it has become the center to a large community of developers. The drupal team keeps on modifying the platform to make it more accessible and compatible by enabling support for different third party API's and integrations.
The result is an autonomous engine of continuous improvement and perfection – something that even drew the attention of Tesla, Cartier, Honda, L'Oreal, and numerous other multinational industries that use the framework. Drupal offers a wide range of customization options, this can be leveraged in creating solutions specific to your business needs.
Drupal Offers Quick to Market Solutions
The huge community of Drupal developers worldwide regularly contributes creating modules thus increasing customization options. The new design also has roots in a very complex, already well-established program. This means that custom-built tools can be completed in record time to address the most specific challenges of your business.
Established eCommerce businesses take advantage of the fact that they create adaptive websites and check new features using A / B testing. This helps identify which version of a particular page or a feature gains more engagement and ultimately more conversions.
Integrated CMS and Marketing Platform
Drupal offers a wide range of integration options along with free resources like 1800+ themes and 24,000+ free plug-ins. It is the only CMS that satisfies the needs of businesses from corporate to small eCommerce sites, social media networks, and blogs.
With over 15 million downloads, Drupal is one of the world's largest open source content management platform, and currently, approximately 1.14 million websites are using Drupal. Twitter has a community of 750,000 Drupal developers. It uses Drupal's web content management and community capabilities to power developers' global Twitter platform "dev.twitter.com".
The Drupal Commerce module can be seamlessly integrated leveraging overall features that Drupal provides ensuring unified customer experience while using the website. It easily incorporates third-party features like social media buttons, payment gateways, Google AdWords, live chat, customer service management tools, and many more. Drupal now comes with the right framework that can be integrated with any existing leading software system customizing the website to suit your needs.
Encrypted with the Latest Security
The security team behind Drupal is dedicated to solving any kind of security challenge. The Drupal team regularly reviews potential entry points for possible cyber hacks or risks. Drupal security features are constantly evolving day by day to make the platform safer for sensitive databases. Our team of Drupal programmers tries their best to build solutions with security on top of the mind.
Scalable and Flexible according to Enterprise Needs
Compared to other eCommerce platforms Drupal provides more options for customization making it more suitable for required extensions. eCommerce websites need to be more adaptable and should be compatible with multiple channels. The significant advantage of using Drupal for eCommerce is its scalability and agility as a platform.
Drupal developers can enjoy seamless integration with an almost endless slate of third-party extensions. Businesses websites using Drupal can tap into various integrations such as CRM, BI, chatbots, customer support systems, and other personalization tools. Your best shot at a useful, relevant, and sales-productive website is to design one that taps the latest innovations like AI.
Drupal is also scalable, enabling your business website to optimize and improve through various stages according to requirements. It's a platform designed to promote and reward continuous business growth. Even better, it enables your business to manage multiple sites using a single Drupal installation.
Responsive and Search Engine Optimized
With a large number of Internet-accessible devices in the market, having an online presence has become a primary requirement for any business. When combined with the fact that mobile pages do better in terms of faster loading and conversion, stress becomes a requirement – after all, sites can be technically responsive, but suboptimal.
Major eCommerce sites prefer Drupal because it is fully optimized for responsive development. Competitive eCommerce businesses shouldn't sacrifice their site's excellent and user-friendly appearance ability for fast loading time – even with Drupal, and they won't need to do this.
Best for Storefronts
Drupal has amazing content managing capabilities that require minimum technical skills. It is a digital experience platform that allows even non-technical (marketers) users to make the necessary adjustments and additions without having to spend hours, making it difficult for people to learn the program.
Drupal allows its users to create websites that can be easily managed across all channels. It also enables creating multiple versions of a single website that can be controlled from a single Drupal platform.
Final Thoughts
Drupal eCommerce offers enterprises of all sizes the opportunity to participate in the market for eCommerce. Companies have a unified and well-supported structure in the direction of uplifting their games, positioning themselves above the competition, and driving rapid growth.
PwDigitas provides top-notch Drupal development and distribution tools for easy implementation to help enterprise organizations accelerate their launch times and reduce overall costs.