Why use Drupal CMS to create enterprise-level Digital Experiences
Type
Category
Date
Reading Time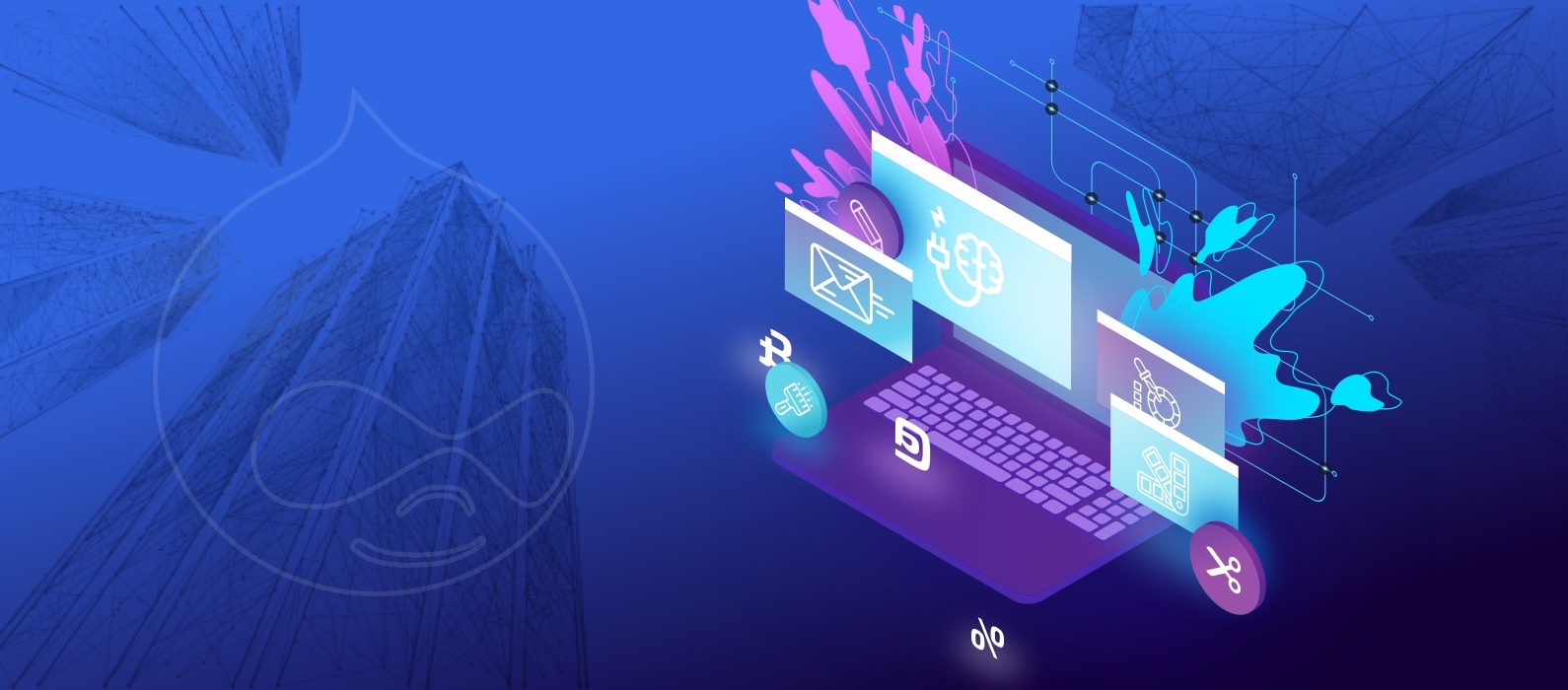 Enterprises have been marching on the path of digital transformation. Digital technologies are radically delivering value to customers, altering the competitive landscape, and changing the underlying economics of the markets.
The digital transformation is nothing new, but this round of transformation is happening at a faster rate than ever before. While new technologies may threaten established businesses, they can certainly create unprecedented opportunities.
In fact, an increasing number of top-level executives are more concerned with missing opportunities to grow that are being forced into oblivion. 87% of the senior executives say digital transformation should be the company's top priority.
It is not digital disruption that impels companies to transform; it is digital "Fear or Missing Out." PWDigitas is a pioneer in providing digital transformation to enterprises with Drupal endeavours. Through our innovative approach and a perfect blend of expertise we help enterprises refresh their digital journey using Drupal.
"Drupal is for ambitious digital experiences. It is used to power mobile applications, digital kiosks, conversational user experiences, and more" – Dries Buytaert
There are many ways enterprises can leverage the Drupal CMS for creating flawless enterprise-level digital experiences. It includes a lot of features enterprises can use to accomplish their goals. This article focuses on unlocking Drupal's prowess as the leading enterprise CMS and leveraging it for creating digital enterprise experience (EDX).
Table of contents:
Understanding digital enterprise experience (EDX)
Digital transformation and it's needs for enterprises
Adopting open-source for enterprise digital transformation
Drupal as the leading CMS for EDX
Industries transforming with Drupal
Understanding Enterprise Digital Experience
Digital experiences are that portion of technology that allows companies to go beyond digitizing paper processes in order to create services that are possible through leveraging modern digital technologies.
Its an interconnected web of digital devices, domains, various channels that build up your brand, almost every touch point that your clients can interact with you right from smart watches to social media and Kiosks. Mobile apps, websites and smart devices all provide digital experiences to the customers, partners, employees or companies, who are using them to interact with each other.
The digital experience could be the digital brand network for your website that you cannot build through SaaS builders like WordPress or Wix. Although these platforms provide unprecedented access to building neat and straightforward websites quickly, enterprises face a different reality.
Apart from the basic functionalities of enterprise websites, you must need to integrate these questions for understanding digital experience.
Is your business ready to support an enterprise-level client experience online?
What will the digital experience look like?
How will enterprise digital experience scale up your business?
Now, enterprises are keeping an eye on protecting their digital future and investing heavily in digital transformation. They realized that they need better content staging and management, faster performance, high-end security and superior search engine optimization to differentiate themselves from the competitors. Thus, there comes the role of Drupal to lead the way towards digital transformation.
Digital Transformation is leading the way
Digital transformation is about integrating digital technologies into various aspects of the business to improve overall business efficiency, a different approach to culture, operational upgrades, and value delivery.
The re-creation of a business requires a dramatic change in the entire business process and model in order to take the advantage of future technologies and their increasing expansion in human activities.
Digital transformation insists on shifting the entire focus with an enterprise mindset and agility that support this transformation. Enterprises will require replacing legacy technologies which are very costly to maintain and foster the company culture for this to accelerate digital transformation.
For many companies, digital transformation is related to cost. Moving data to a public, private or hybrid cloud environment reduces operating costs. This frees up hardware and software costs, freeing team members to work on other projects.
Besides, here are many more reasons why digital transformation is leading the way.
Advanced data collection
Most businesses accumulate mountains of data on customers, but the real benefit is to optimize this data for analysis that can propel the business forward. Digital transformation creates a system to collect the right data and incorporate it fully for a high level of business intelligence.
Greater resource management

Digital transformation integrates information and resources into a set of business tools. Instead of scattered software and databases, it brings the company's resources together. The average number of applications used in enterprise businesses in 2020 is 900. This makes it exceptionally difficult to provide a consistent experience. Digital transformation can integrate applications, databases and software into a central repository for business intelligence.
Data-driven customer insights

Data can be the key to unlocking customer insights. By better understanding your customers and their needs, you can create a business strategy that is more customer-focused. Using both structured data (personal customer information) and unstructured data, such as social media metrics, this information can help accelerate business growth. Data enables strategies to provide more consistent, personalized and crisp content.
Promoting digital culture (with better collaboration)

Digital Transformation promotes digital culture by providing team members with the right tools to suit their environment. While these tools provide an easy way to collaborate, they also help the whole organization move forward digitally. This digital culture will be important in the future. This forces the upskilling and digital education of team members to reap the benefits of digital transformation.
Increase profits

Companies under digital transformation improve efficiency and profitability. Consider the results reported by the SAP Center for Business Insights and Oxford Economics:

80% of organizations that have completed digital transformation report increased profits.
85% say they have increased their market share.
On average, leaders expect 23% higher revenue growth than competitors.
39% mentioned that it reduced business operational costs.
Adopting Open-source for Enterprise Digital transformation
Over the past decade, there has been significant growth in adopting open-source software at the enterprise level. More businesses are investing in open-source as it outperforms the proprietary counterparts. The enterprise mindset continues to migrate around open-source considering the huge cost benefits.
Enterprises that are opting for open-source have many reasons to do so. Here are some of them.
Agility

IT leaders in enterprises should build and foster the approach of flexibility and agility. If you can't compete on the skills, you're going to be out of the competition. Open source provides more agility in the use of technologies, thus it opens many ways to solve the problems. It helps enterprises to maintain their operational flow without depending on external proprietary software vendors. Enterprises can benefit from the whole open-source community and are not limited to their own resources.
Costs

Open source is usually much more cost-effective than proprietary solutions. Generally, open-source solutions in an enterprise environment for equal or better capacity are not only cheaper, but they give enterprises the ability to start small and large scale (to come more). Given that budgets are challenged mainly by the enterprise, it only makes sense financially to explore open-source solutions.
DevOps

Open source gives you a way to control a lot, the ability to maintain a lot, and the ability to run and execute a product. Every change you make can go into that pipeline, and only the code or all the compiled components will be created in that pipeline and make sure it is stable, but then it is supposed to roll out and be deployed.
Speed

If your enterprise is not already there, your enterprise will soon compete in motion. The significant advantage of open source is the ability to take community versions, get started, understand if they can solve your business problem, and start offering value right away. Once you determine that, professional support and services become more available for open-source products. It allows you to get the best out of both worlds – flexibility, agility and the ability to start quickly and cheaply, the ability to mature extensively, full support, enterprise-grade implementations and not rush to visit your proprietary license barriers.
Drupal as an Open-source Enterprise CMS
Drupal can be described as both content management system and content management framework as it thrives to have strengthened both. it is distributed under the general public license which guarantees the freedom to run, modify, and study the software to meet the needs.
According to statistics, more than 2.3% of enterprises choose Drupal as the most trusted CMS to run their website. Drupal is highly popular for sites that generate high traffic and work with sensitive data.
Enterprises have a more complex set of technical requirements that SaaS solutions failed to cater to like,

Community engagement sites
Multisite platforms
Omni channel experience
Reliability on 3rd party integrations
While there are multiple open-source platforms, an enterprise can opt for, each of them with its own pros and cons, but top organizations, enterprises, and businesses often consider Drupal and there is good reasoning for that.
Better content authoring

Content creators and marketers can use the integrated WYSIWYG editor or navigate the site and use the new on-page editor. It is an essential tool for authorization and permission for editorial workflows as well as content management. Authors, publishers, site administrators, and developers, with workflows, use Drupal to meet their needs, giving them ample access to the features they need.
Global Support with multi-language

Drupal speaks everyone's language to deliver improved multilingual and globalization support and great digital experiences. It architects and organizes to deliver sites to a global, multilingual audience as part of its localization strategy. Drupal makes it easy to create and manage sites for different regions and geographic locations, and supports multiple languages ​​across all of your sites, translating and localizing your content and experiences.
Digital ecosystem integration

Drupal plays well with your organization's email, analytics, marketing automation, and other digital technology solutions to create a seamless digital ecosystem. It enables you to create a web solution that supports your specific business needs. You can create a foundation for limitless solutions.
Flexible content architecture

Create the right content architecture using the admin interface or program it. Display only the right content for each reference with powerful display mode tools and visuals. Include different types of media (images, videos, PDFs, etc.). Customizable menus create a comfortable user experience, paving the way for the content on many devices.
Content as a service
With Drupal's structured data model, you can display content in multiple layouts for the responsive web, or export it to rest services with any application or client. Drupal's open architecture and API provide developers with a framework and tools to use Drupal and connect to other sources of data, content, and application functionality, including marketing technology tools. Content can be presented in any channel, anywhere, in any format.
A community of talent and experience

The Drupal community around the world shares the secrets of how things can be done right. If you have a question, someone has the answer. Take advantage of the power of open source by creating already built solutions. Drupal developers have access to a worldwide community experience. How much support did your software provider give you last?
Integrated digital application

Drupal integrates seamlessly with the vast ecosystem of digital marketing techniques and other business applications, so you can use the best tools today and stay flexible to use new tools tomorrow. And, Drupal's API-first focus is on adding content to other sites and applications, making content more powerful.
Multi-site support

Drupal has long been a "monolithic" CMS, serving as front-end and back-end support. However, decode architecture is growing in popularity in the technologically advanced world. As a result of the changing landscape, there have been some significant developments in the Drupal world, with the selection of moving websites for multi-channel publishing and a more interactive web application.
High security

Drupal provides numerous eyes and ears to protect the Drupal community. Trust your team, but also the open-source community to automatically identify/build vulnerabilities and create or distribute vulnerabilities to protect your sites and your business. And you will never lose a night's sleep.
Industries experiencing ambitious digital transformation with Drupal
From FinTech to large-scale publishing sites, from High Tech to web portals, Drupal powers the best of the web solutions. Here's how different industries are experiencing ambitious digital transformation through this open-source platform.
FinTech: Drupal empowers and protects the account holders through its secured and encrypted coding standards.

Retail: You can create a customized shopping experience in accord with the user behavior with Drupal.

Healthcare: Engage remote healthcare providers to long distant patients with Drupal's advanced tools integrations like virtual conferencing.

Education: Build next-generation digital platforms for education with Drupal's strong technology stack foundation.

Media & publishing: Content as a service, Drupal creates endless possibilities for media and publishing.

E-commerce: Drupal can be integrated with major eCommerce platforms for delivering a seamless shopping experience.

NGOs: Drupal helped many NGOs to organize their operations with omnichannel support.

High Tech: Deliver top-notch technology solutions to high-tech industries like robotics and aeronautics.

Government: Drupal's encrypted codes helped many governments to secure their online processes.
Invest in your digital future!
Digital solutions and technology are evolving every day to impact your customers' standards and expectations – many businesses do not live up to those standards. They do not choose to invest wisely in their digital future or monitor and implement the necessary improvements because they do not have a reliable IT support.
PWDigitas have a data-driven approach, iterative development cycle, robust architecture and experience design to cultivate seamless digital experience for your enterprise. Our experience and industry expertise will help you to figure out the best path to success with the right digital transformation strategy.
As one of the best web development companies we are experts in creating and migrating Drupal websites to the latest versions for large enterprises.
We offer top-notch design and development to build high-quality Drupal-based websites for corporate, eCommerce, retail, CMS, and blogs. Since our journey as a digital transformation company, we are pioneering Drupal web development services to help our clients drive revenues, enhance productivity and optimize their digital presence.
Connect with us at info@pwdigitas.com to know how we could help for a smooth digital transformation experience.