What is Digital Transformation & Effective Strategies to Reinvent Your Business
Type
Category
Date
Reading Time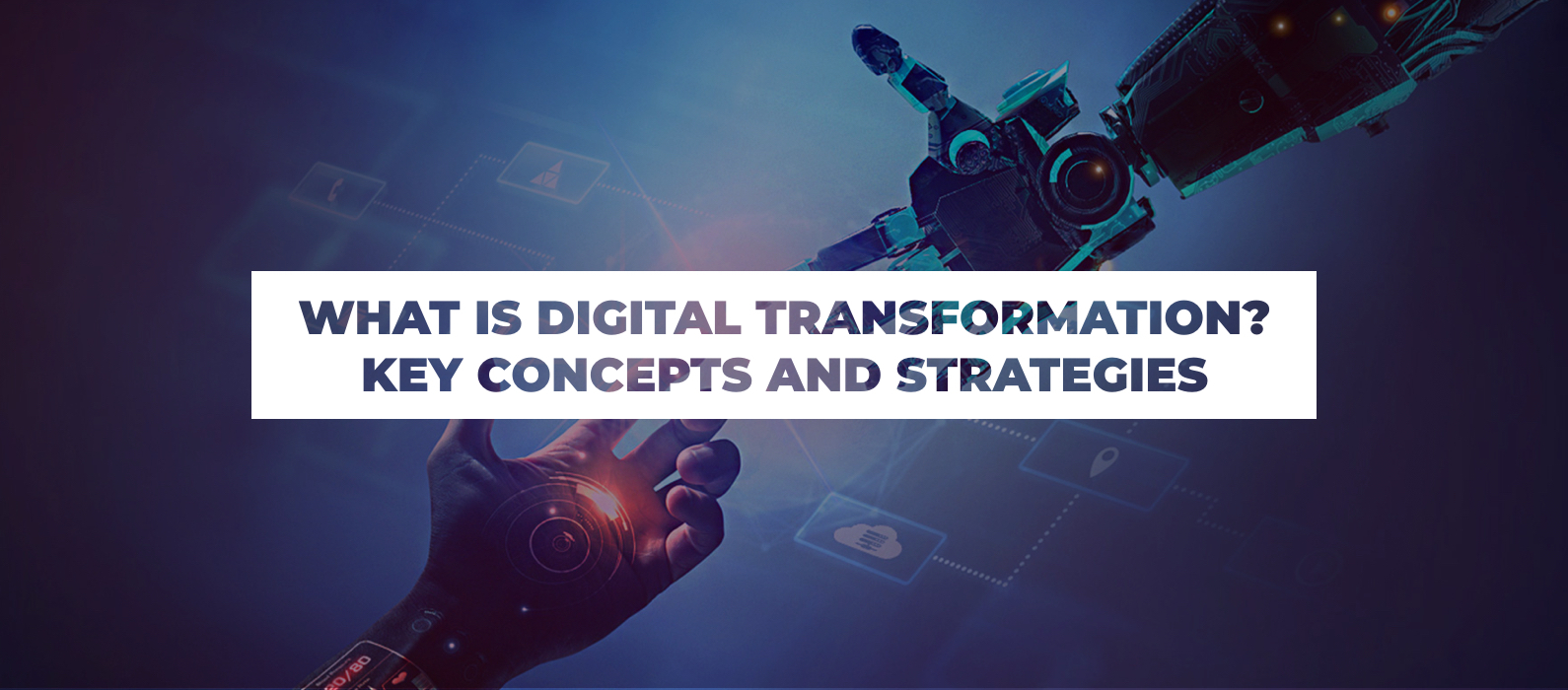 When the entire world is dealing with a Coronavirus outbreak, nothing is more important than the digital transformation of your business. Digital technologies are enabling radically new ways to deliver value to the customers, altering the competitive landscape and changing the underlying economics of the global markets.

Digital transformation is nothing new, but it is happening faster than ever before. Some companies cite the risk of disruption, while some consider the unprecedented opportunities. An increasing number of companies are more concerned with missing out on the opportunities to grow. Digital transformation is not just about disruption or technology, but it is about value, adaptability and excellent use of available technologies and information.
What is Digital Transformation?

Digital transformation is the cultural, organizational, and functional transformation of an organization, industry, or ecosystem through a phased and strategic approach, smart integration of digital technologies, processes, and all levels and functions.

Digital Transformation commonly known as DX or DT, leverages technology to create value and new services for various stakeholders (customers in the broadest sense of the word), renewing and acquiring capabilities for rapid adaptation to changing conditions.

While digital transformation is used primarily in a business context, it also affects other organizations such as governments, public sector agencies, and organizations that take advantage of one or more of these technologies to reduce pollution and serve the growing population. This includes facing social challenges.

Importance of Digital transformation in today's world

Digital transformation is at the center of modern organizational strategies. IDC estimated that the economic value of DX is almost $19 trillion, which is 20% more than the global GDP. It depends on how the companies are adapting digitalization with transforming with technology, scale, agility and speed, creating more sustainable performance excellence in the digital economy.

The Worldwide Digital Transformation Strategies program reflects the maturity of enterprise transformation efforts, recognizes organizational impact, provides guidance for creating new capabilities and prioritizes investment options. The program is fully supported and aligned with the IDC Digital Transformation Strategies Guide, which enables quantitative analysis of investments by industry, technology and uses a case classification framework.

Digital transformation strategies- Building bridges to success

A digital transformation strategy begins with answering essential questions such as what, why, how and who. The digital transformation strategy builds a bridge between the current situation and the desired long-term plan. And by definition, digital transformation is holistic. It requires integration and collaboration, and the digital transformation strategy removes the building blocks and bridges to connect them as well as obstacles and new bridges.
Transform your business process

Business activity has been an essential center of process change in a corporate event. Data, analytics, API, machine learning and other technologies provide valuable new ways to strengthen processes across a corporation, to reduce costs, reduce cycle time, or increasing quality.

We've seen a change in the process on the shop floor, where companies like Airbus have installed head-up display glasses to improve the quality of personal inspection of aircraft. We also see process changes in the customer experience, where companies like Domino's Pizza have entirely conceived the food order process.

Domino allows customers to place orders from any device anywhere. This innovation has increased customer comfort so much that the company has surpassed Pizza Hut in sales. And as we have seen, companies apply technologies such as robotic process automation to streamline back-office fee processes such as accounting and legalization, for example.
Business process change can create significant value, and the adoption of technology in these areas is increasingly becoming a table-part. Because these changes are for efforts around specific areas of business, they are often successful under the leadership of a CIO or CDO.

Transform your business models

Some companies are accepting digital know-hows to replace traditional business models. While process change focuses on limited areas of the business, the business model changes on the basic building blocks of how industry value is distributed. Examples of this type of innovation are known, ranging from Uber to the taxi industry, to the strengthening of music delivery (I-Tunes), Netflix is redefining the way, we entertain and watch our favorite movies anytime.

But this kind of change is happening elsewhere. Insurance companies, such as Allstate and Metromile, use data and analytics to un-bundle insurance contracts and charge customers to monetize bulk changes to the insurance business model. And, despite not being a reality yet, many efforts are underway to turn the mining business into a fully robotic exercise, where no man goes below the surface.

Transform your Business Domain

Domain change is an area where we focus on the surprising – but vast opportunities – the city of ​​change. The latest technologies are reinventing products and services, erasing industry boundaries and creating entirely new slots of non-traditional competitors.
Many executives have not appreciated these new technologies for unlocking entirely new businesses for their companies outside the currently serving markets. And often, this kind of change alone provides the most significant opportunity to create new values.
Transform your business culture

Cultural/organizational transformation requires a complete, long-term digital transformation to redefine the corporate mindset, processes and talents and abilities for the digital world. Best-in-class corporations identify that digitalization requires agile workflows, the bias in favour of testing and learning, decentralized decision making, and greater reliance on business ecosystems. And they take proactive steps to change their organizations.

Experian, a consumer credit agency and one of the most successful digital transformers transformed their organization by running agile development and collaboration in their workflow and shifting the fundamentals from employee focus to data, device. Similarly, 100-year-old postal equipment company Pitney Bowes, according to its head of innovation, successfully transitioned from being a "technology company" to promoting a "culture of innovation" and focusing on the company by transferring values.

Transform your business intelligence

Information is ubiquitous and central to digital transformation. Significant data volumes, formats and resources are proliferating. The question for leading organizations has shifted: how do we transform all this data into accessible intelligence in a meaningful, priority and profitable way, even while creating new opportunities.

At the same time, information management requires a holistic and integrated approach. There are several steps, from digitizing and capturing paper-based information to enhancing processes, empowering knowledge employees, better serving customers. When, where and how they need to obtain accurate information and confidential information. Integration is required.

Achieving end-to-end information management excellence regardless of the individual goals and challenges of organizations, their customers, their ecosystems and adaptations, innovation and their goals and their goals are essential if there are no critical pillars for success. In practice, many bridges need to be built to remove gaps and chases that are still prevalent. Last but not least, this requires information/content analytics and (thus) artificial intelligence to take a step from information to knowledge and intelligence.

Final Thoughts
Digital transformation requires strong leadership to drive conversion. But you also need a vision of what parts of that company you want to change. Companies from all industries and sectors are experimenting and taking advantage of digital transformation. Then whether those individuals work and collaborate, the way business processes are carried out within or across organizational boundaries, or the way a company understands and serves customers, it provides a wealth of digital technological opportunity.
As technological changes, industries will be forced to change. Corporators who believe in and follow the multi-dimensional digital transformation will achieve greater success than that. Focusing is important. But best-managed companies are continually identifying new ways to redefine the way they operate in the new digital age.
PWDigitas is the prominent partner for transforming your conventional business models into a digital platform. Contact us for the best quote at info@pwdigitas.com.